Today's fastest-growing B2B and SaaS companies supercharge and scale their growth by leveraging a suite of sales enablement technologies and growth acceleration tools into a tech stack.
In this blog post I look at why and how you can build an effective sales tech stacks to scale with.
As a sales leader, it's essential to have a tech stack that will help you scale quickly and efficiently. Selecting the right set of tools and technology to help amplify your sales strategy and processes is key, but can be overwhelming.
Winning sales teams all leverage and stack together a series of sales enablement, data, analytics and automation tools to gain competitive edge through predictive revenue programs.
I've witnessed firsthand time and again how, when done right, a well-selected sales stack can catapult your business into the big leagues.
And it's not just a nice-to-have any longer. It's essential for you to stand a chance in today's highly competitive globalized marketplace.
What is a Sales Tech Stack?
A sales tech stack is a set of sales-specific software solutions and tools used by your sales team to fulfill their job responsibilities and optimize their processes. It includes the following functions to:
Find leads

Store contact data

Send out email sequences

Conduct demos

Share collateral

Build proposals

Get signatures

Onboard new reps

Gauge customer satisfaction

and much more as new tools constantly appear
More specifically, by architecting the right prioritized collection of sales tools, you can optimize your team's workflows and processes. But, it's important to find the right balance between features and usability when selecting these tools
The result? Your team spends less time on admin tasks by automating them, giving your team more time to focus on selling your offerings.
Why is a Sales Tech Stack So Important?
According to Salesforce's "State of Sales" report 4th edition, sales reps spend 66% of their time on non-selling activities. Not surprisingly then why, on average, only one out of three sales reps meet their quotas.

The same Salesforce report shows that high-performing sales teams use three times more sales tools than underperforming teams. And those with higher growth rates are far more effective in using digital sales tools.
Compelling enough reasons to take the selection of a sales tech stack quite seriously. Wouldn't you agree?
So creating a sales architecture with your end goal in mind is critical for your success. This involves mapping out everything and understanding your workflows, sales methodology and processes in great detail. Then you need to continuously monitor the efficiency gains and adjust.
The Benefits of Building an Effective Sales Tech Stack
Here are just a few of the advantages:
Increased Efficiency:

An effective sales tech stack can help you streamline your processes, making it easier for you to focus on what matters—growing your business. By automating mundane tasks such as data entry, you can free up more time for activities like prospecting or customer outreach.

Improved Reporting:

A good sales tech stack should provide you with improved visibility into your pipelines, allowing you to make better decisions about where best to allocate resources. You should be able to easily track progress and measure success against goals set in place by management.

Increased Revenue:

By having better visibility into your pipeline and improving efficiencies, you can increase the revenue generated from each sale while also increasing the number of deals closed per month or quarter. This can result in a significant boost in profits over a short period of time.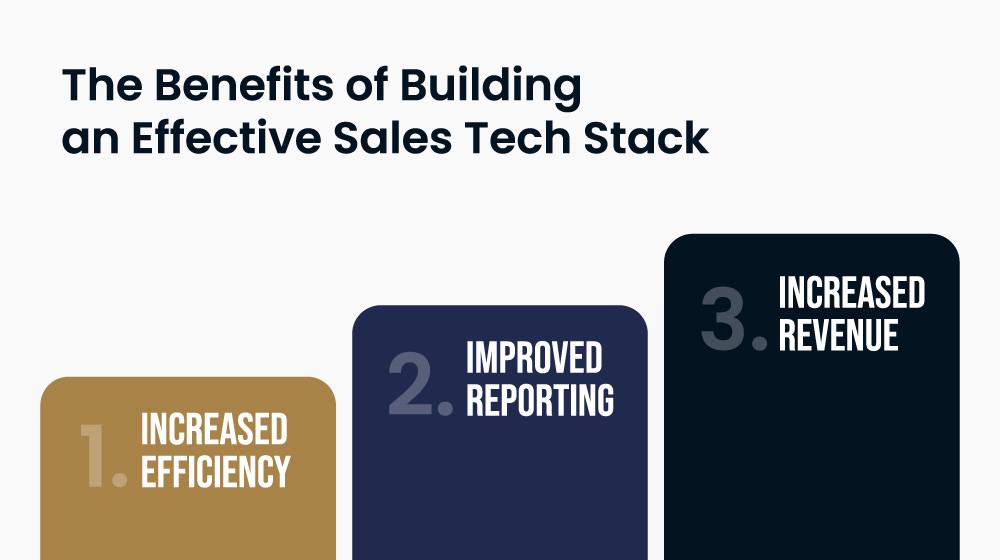 How to Build Your Sales Tech Stack? Around Your Sales Reps Needs
Creating an effective sales tech stack isn't as simple as just buying any tool available on the market. It requires careful research, planning and consideration to ensure that all the tools work together seamlessly without any overlap or wasted resources. With these steps, you can create powerful stacks that will help your reps achieve their goals faster than ever before!
The cornerstone of your sales tech stack is to build everything around your sales reps needs, to benefit their sales efficiency and make it user friendly.
Once you have identified the right tools, integrate them into your existing systems and then test so they can provide maximum value from day one.
To do so you need to understand where you are in your company's lifecycle. By this I mean knowing where you are with regard to team size, growth targets, burn rate and the size of your budget.
Start By Asking the Following Questions:
Who are you looking to sell to and why?
You may use CrunchBase to identify companies who recently have raised funds and are looking to grow. Or leverage a tool like BuiltWith to pitch your solution to companies that have technology in place which your solution serves well.
How and where can you engage with them?
Build systematic multi touch-point sequences with sales engagement software like Outreach or SalesLoft for emailing, calling and social selling. Or optimize inbound lead routing aiming for higher closing rates with scheduling tools like ChiliPiper.

Why should they talk with you and how can they benefit from that?
Whether by using Walnut to design quick, personalized and interactive product demos to wow your prospects, or by creating value-demonstrating ROI calculators with The ROIShop, there is a plethora of choice.

How to close deals and onboard customers?
There are hundreds of multi-faceted CRM solutions available for any company size. The big players like Salesforce and HubSpot have native API integrations with a range of complementary tools and apps that allow you to optimize your sales processes, land more deals and onboard a high volume of customers more easily than ever before.
Additionally, proposal software like Proposify or PandaDoc amplifies the speed of deal success rates and potential volume of new customers your company can secure.

How to upsell, cross-sell and renew customer agreements?
Tools like ChurnZero can help companies more effectively onboard new customers, leading to higher CSAT rates, improved management of your renewal processes, and analytics that can help mitigate customer churn.
And Upsales can help you spot account growth opportunities within your book-of-business more easily. Or apps like Recurly ensure you can grow your recurring revenue without things falling through the cracks.
How to onboard, train, manage, coach and compensate sales reps?
With conversational intelligence and call analytics tools like Gong.io, or sales readiness platforms like Brainshark and MindTickle, getting new reps onboarded, trained and coached for quota attainment has never been easier.
And with software like Ambition or Highspot to help you coach, develop your reps and improve their productivity while sharing best practices across your teams, you can equip your reps to crush targets.

Benefits of a Well-Chosen Sales Tech Stack
Creating an effective sales tech stack is essential for B2B and SaaS companies who want to scale quickly without sacrificing quality or efficiency in the process.
Doing so goes a long way to staying competitive in today's crowded marketplaces while still providing superior experiences for your customers at every step of the way!
The landscape of sales technology can be overwhelming. But if you collect the right set of tools and configure/implement them appropriately, your sales tech stack will:
Amplify the process of how your reps find sales-qualified leads

Automate tedious administrative low-value but necessary tasks

Track the most effective sales strategies across all mediums and channels
By automating time-consuming sales admin tasks, your team can spend more time speaking with prospects, closing deals and completing other revenue-generating tasks.
Lead List/List Building

Email Warmup

Email Sending

LinkedIn

Scheduling/

Lead Routing

Chat Tools

CRM

Skills Development

Sales Engagement

Sales Enablement

Content Experience

Value Selling & ROI

Conversation Intelligence

Proposals/Contracts

eSigning

Subscription Management

Customer Success

Performance Management

Compensation Management

Channel Management
Sales Tech is hotter than ever before. If done right, your sales tech stack can become an amazing asset to help your B2B or SaaS company scale.
Contact me gary@elev8.io if you need strategic guidance on which tools you'd add to your Sales Tech Stack and how to implement them all so working in perfect harmony in order to give you incremental performance gains.